Description
Ingredients for our updated TriEnza formulas:
TriEnza capsules now have Medium Chain Triglyceride Powder added, derived from palm/coconut kernel oil.
TriEnza Chewables now have the sweetener Xylitol added.
TriEnza Powder now has Microcrystalline Cellulose added. The Medium Chain Triglyceride Powder in TriEnza Powder is derived from palm/coconut kernel oil.
TriEnza is still our best broad-spectrum enzyme product for protein, gluten, dairy, starches, carbohydrates, fats, fiber, and polyphenolic foods.†
Contraindications for Enzyme Supplementation
These enzymes should be used with care in cases of active stomach or duodenal ulcers, severe bowel inflammation (characterized by blood in stools), hemophilia and other bleeding disorders, or within a week of scheduled surgery. This product may not be appropriate for those with known allergies to Aspergillus enzyme proteins, though non-specific mold allergies do not necessarily preclude use of fungal enzymes. Consult your medical doctor for further advice, and err on the side of caution. Those with known anaphylactic allergic reactions to fungal proteins should NOT ingest fungal-derived enzymes.
*These statements have not been evaluated by the Food and Drug Administration. This product is not intended to diagnose, treat, cure, or prevent any disease.
Usage
Two (2) capsules at the beginning of each meal. Capsules may be opened and contents mixed with food and beverage. Use care not to inhale enzyme powder. TriEnza may be taken with other Houston Enzymes products.
Supplement Facts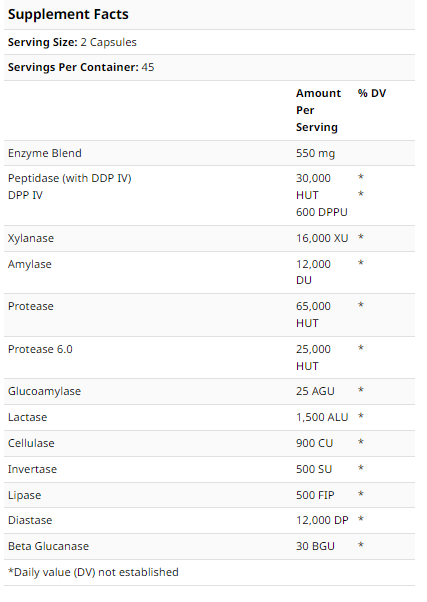 Disclaimer
While hama mall strives to ensure the accuracy of its product images and information, some manufacturing changes to packaging and/or ingredients may be pending update on our site. Although items may occasionally ship with alternate packaging, freshness is always guaranteed. We recommend that you read labels, warnings and directions of all products before use and not rely solely on the information provided by hama mall